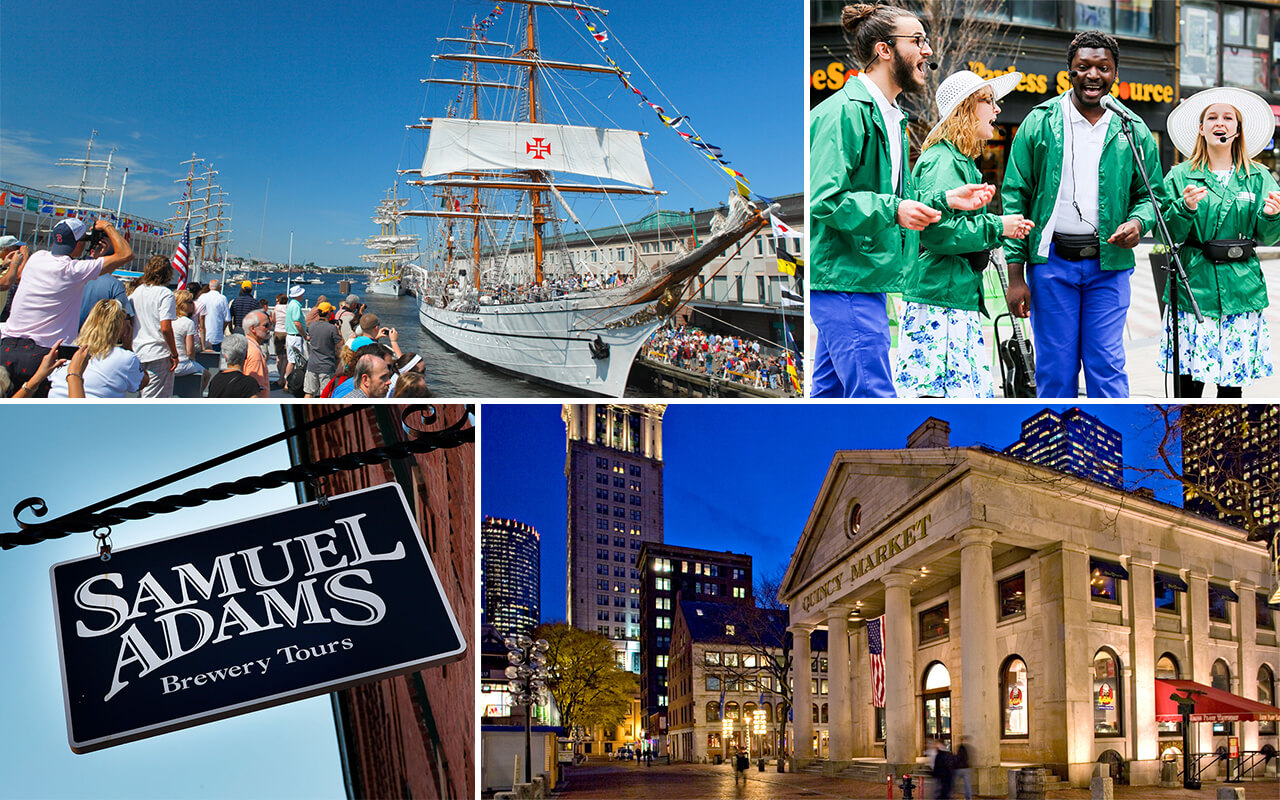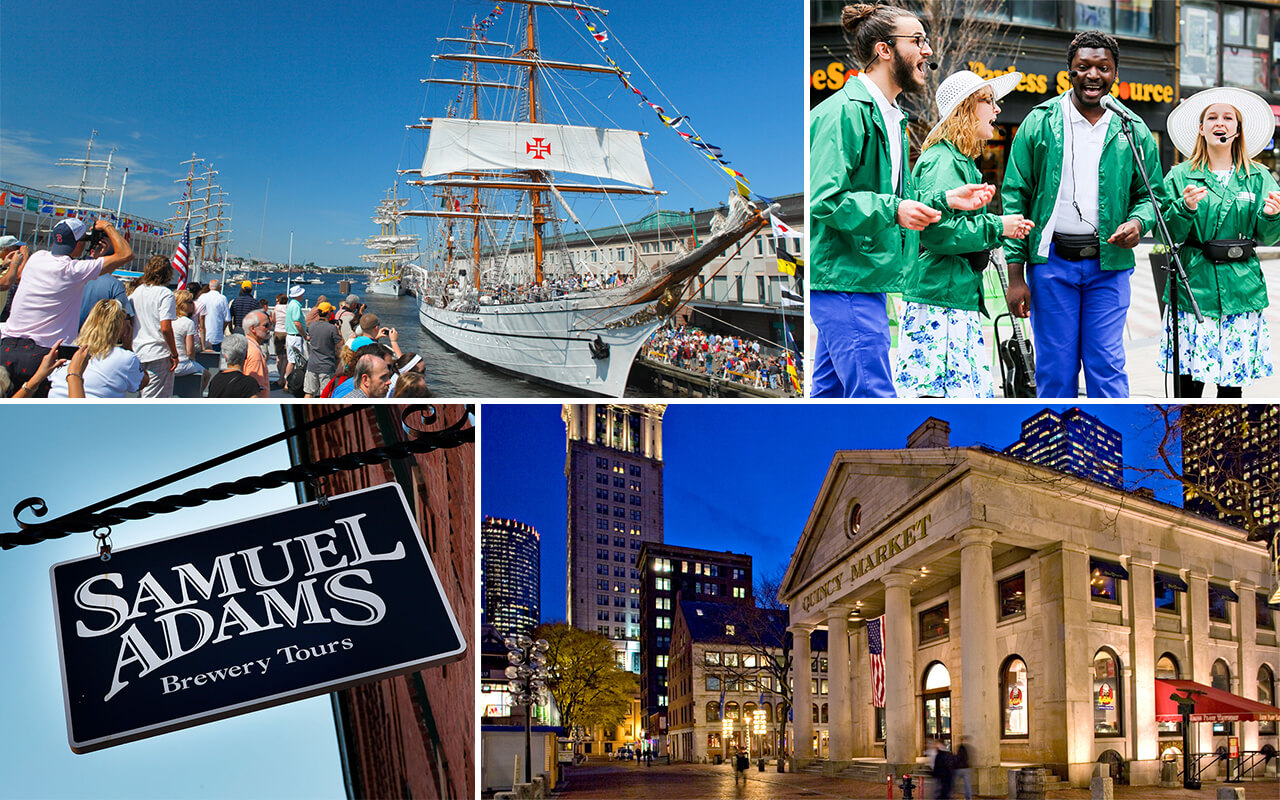 1. Samuel Adams Boston Brewery
Thirsty? Experience the Samuel Adams Boston Brewery where you'll learn about the history of the Samuel Adams brand, the brewing process, and of course, sample test batches as well as award-winning beers like Samuel Adams Boston Lager, the beer that inspired the craft beer revolution. Brewery tours are fun, free, and daily (except Sundays). For more information, visit samueladams.com
2. Old State House
The Old State House is the oldest surviving public building in Boston, and was built in 1713 to house the government offices of the Massachusetts Bay Colony. As the center of civic, political, and business life, the Old State House was a natural meeting place for the exchange of economic and local news. A merchant's exchange occupied the first floor, and John Hancock and others rented warehouse space in the basement. The National Historic Sites Commission has called the Old State House one of the most important public buildings in Colonial America. Explore the site of the Boston Massacre, where five men lost their lives. Relive the moment in July 1776 when the Declaration of Independence was first read to the people of Boston. For more information visit bostonhistory.org.
3. Codzilla
Do you want to go jetting across the ocean at 40mph doing 360 degree turns with the music on full blast? Then join this wild ride in Boston Harbor! Please note: YOU WILL GET WET! The boat leaves every day (except June 17 due to the visiting Tall Ships). Tickets are $29 for adults and $25 for kids. bostonharborcruises.com
4. Whale Watch
Spot some of the most fascinating mammals right here in Boston! If you choose to go on a whale watch this summer, you could find everything from humpback and finback whales, to different bird species! Each cruise comes with your very own naturalist from the New England Aquarium to educate you on these creatures and answer any questions! Daily cruises (except June 17 due to the visiting Tall Ships). Tickets are $53 for adults and $33 for kids. Packages are available. bostonharborcruises.com
5. Sunset Cruise
Watch the sun set gracefully behind the skyline as you sail across the ocean. Learn about our historic city, watch the USS Constitution fire her cannon, and see one of the most breathtaking scenes. Cruises leave daily at 7:00 PM. Tickets are $30 per adult and $26 per child. bostonharborcruises.com
6. Boston Symphony Orchestra
A classic night on the town consists of a Boston Pops performance at historic Symphony Hall now through June 17. Shows include Leslie Odom, Jr., The Beatles & Beyond, Cirque de la Symphonie, and Party with the B-52s. Showtimes and tickets vary, so please check the website for more information! bostonpops.org
7. Spirit of Boston Dinner Cruise
Enjoy a delicious buffet on board the Spirit of Boston! This three hour cruise isn't just about dinner either. Have a cocktail, play interactive games, soak in the city views and tell the DJ to turn up the music! Departures and ticket prices may vary. spiritcruises.com
8. The Hampshire House
The Hampshire House is a turn-of-the-century mansion on historic Beacon Hill, where generations of Bostonians and their guests have wined, dined, and danced the night away.
Designed and built in 1910 by the society architect, Ogden Codman, for fellow Brahmins Bayard and Ruth Thayer, the five story Georgian revival townhouse was lavished with Italian marble, carved oak paneling, crystal chandeliers and tall Palladian windows. Those windows not only looked out onto the Victorian elegance of the Boston Public Garden, but they also looked into the social world of Boston's elite, as 84 Beacon Street became one of the most fashionable salons in the city.
Thomas A. Kershaw has been the owner of the Hampshire House since 1969. Since then, the Hampshire House has been the ideal choice for special occasions. Its interior decor gives an aura of those grand days when the Thayer's entertained in their magnificent mansion on Beacon Hill. Now you, too, can be a part of history at the Hampshire House.
9. Odyssey Brunch Cruise
Start your Sunday with an amazing brunch on the water! During this two hour cruise you'll enjoy live music and a sweet n' savory breakfast with beautiful panoramic views of the city. And don't worry, when its comes to caffeine, this cruise has you covered. Dates and ticket prices vary. odysseycruises.com
10. Pirate Cruise
Are you ready for an adventure? Then get ready to set sail on Boston Harbor and become a pirate! Channel your inner Captain Hook with this fun, historic activity that's great for all ages. Hear sea stories, play sea shanties, and even fire the cannon! Ships leave everyday starting June 19th and are approximately 2 hours long. Tickets are $35 per adult and $25 per senior or child. Children under 5 years old are free. massbaylines
11. JFK Presidential Library and Museum
Immerse yourself in history and become educated! The JFK Library and Presidential Museum invites you to go back in time and learn about "The New Frontier" and what it meant for our country. Open Daily from 9:00AM – 5:00PM. General admission is $14, kids 12 and under are free. jfklibrary.org
12. Charles Riverboat Tour
This popular sightseeing tour will take you for a relaxing ride along the Charles River. It is a 70-minute, fully-narrated tour that will show you cultural sights of both Boston and Cambridge. Tickets are $18 for adults and $10 for children 12 and under. We recommend purchasing your tickets two weeks prior to your desired tour date! charlesriverboat.com
13. Boston Opera House
Located in the heart of the Theater District, the Boston Opera House hosts top touring Broadway shows, Boston Ballet performances and other high-quality cultural presentations and concerts. The Tony Award winning musical "Wicked" is at the Boston Opera House from June 7th to July 23rd. For more information and tickets please visit bostonoperahouse.com.
14. Old South Meeting House
See where the Boston Tea Party began in 1773. Come inside one of the nation's most important colonial landmarks to experience the place that changed American history forever. The Old South Meeting House still stands in the heart of bustling downtown Boston today, open to the public daily as a historic site, museum and an active gathering place for discussion and celebration. The Old South Meeting House was the favorite stage in Boston's drama of revolution, the place where colonists gathered time after time to challenge British rule in the years leading to the American Revolution. It is the place where unprecedented numbers of people from all walks of life engaged in debate and dialogue that would change the fate of a nation. For more info visit osmh.org.
15. Boston Harborfest
With hundreds of activities over Independence Day weekend at Boston's best landmarks, this family-friendly event is the country's largest Fourth of July festival. Activities include the annual opening ceremony at Faneuil Hall, historical reenactments, Freedom Trail walks, boat tours, live entertainment and much more! This free event starts on June 30, and goes until July 4. bostonharborfest.com
16. ZUMIX Summer Music Series presents the Wild Painting
The Eddy is proud to announce a ZUMIX summer music series. The luxury residential building and the located on East Boston's waterfront, is partnering with ZUMIX, the East Boston based nonprofit organization dedicated to building its community though music and the arts, to showcase local talent. The performance schedule will feature on June 21st: Wild Painting. Guests can take in Boston's skyline views from The Eddy lawn. zumix.org
17. Cheers
Previously known as the Bull & Finch Pub, this bar's rise to stardom is the classic Hollywood story – only it happened in Boston!  Built in 1969 by Thomas A. Kershaw, the Bull & Finch Pub provided the inspiration for the setting of the bar "where everybody knows your name."
In the spring of 1981, a couple from Hollywood – Mary Ann and Glenn Charles – looked to create a sitcom based on a Boston neighborhood bar, where sports and politics were hot issues in the local watering holes.  One afternoon, they dropped into the Bull & Finch Pub where they met affable bartender Eddie Doyle.  After a beer, burger, and a chat with Eddie, they felt good about the Bull & Finch.  They visited half a dozen other Boston bars, but returned to 84 Beacon Street, declaring, "This is the place!"
The Bull & Finch went on to become one of Boston's must-visit attractions. However, even with all that stardom, the bar now known as Cheers has held onto the feelings of hospitality and warmth felt by the writers over 25 years ago.  In 2001, Kershaw opened Cheers Faneuil Hall as a replica of the one seen on television.  Cheers is the ideal place for newcomers and old friends alike to share hearty laughs, tall tales, "little-known facts," and, of course, a cold beer.
16. AIDS Walk Boston
On June 1, 1986, 4,000 people came together at an event called "From All Walks of Life," a fundraising walk to support the services of AIDS Action Committee. Today, this event is known as the AIDS Walk & Run Boston. More than thirty years later, almost 350,000 people have participated in the AIDS Walk & Run Boston and raised over $40 million for the programs and services of AIDS Action.
Every year, thousands of people like you and me continue to walk together to make our community healthier. While the Walk has grown and changed to reflect the mood of the time, we continue to assemble on the first Sunday in June, united by these common causes: to remember those we have lost to HIV/AIDS, support those who are living with this disease, and to finally end the epidemic. Walk this June 4th and learn more here! aidswalkboston.org
17. Faneuil Hall Marketplace
Located just a quick walk from Sail Boston, Faneuil Hall Marketplace welcomes visitors to walk through history at one of the nation's premiere retail destinations. Visit over 100 local shops, national retailers and specialty pushcarts offering a unique selection of hand-crafted jewelry, unique clothing, accessories and New England giftware. Smell and taste wonderfully diverse ethnic foods in the Quincy Market Food Colonnade – the largest international food hall in New England! Enjoy 12 restaurants, pubs and outdoor cafes where you'll find something to satisfy every taste including fresh New England seafood. Walk along the aged cobblestones to watch performances by world-renowned street performers and enjoy free outdoor games and other activities. This one-of-a-kind marketplace has something for everyone and promises a memorable experience every time. faneuilhallmarketplace.com
18. The Freedom Trail
Boston's official Freedom Trail® Tours take you to places where history was made! Walk Into History along the iconic Freedom Trail – the 2.5 mile red line leading to nationally significant historic sites, each one an authentic treasure. Preserved and dedicated by the citizens of Boston in 1951, the Freedom Trail is a unique collection of museums, churches, meeting houses, burying grounds, parks, a ship, and historic markers that tell the story of the American Revolution and beyond. Led by 18th-century costumed Freedom Trail Players®, tours feature tales of high treason, mob agitations, revolutionary actions, and partisan fights of the American Revolution. Discover the rich history of the American Revolution, as it began in Boston, where every step tells a story. thefreedomtrail.org
19. Boston Common
The Boston Common, founded in 1634, is the oldest public park in America. From Colonial times to the present day, the Common has been at the center stage of American history. It has witnessed executions, sermons, protests, and celebrations, and it has hosted famous visitors from Generals Washington and Lafayette to Reverend Martin Luther King Jr. and Pope John Paul II. Today, the Common is the scene of sports, protests, and events large and small. Yet for all its adaptation to modern life, the Common remains a green retreat remindful of its storied past.
20. Boston Public Garden
The first public botanical garden in America, its form, plantings, and statuary evoke its Victorian heritage. This green and flowering oasis in the heart of a great metropolis has become a Boston icon. Observing the Garden on a peaceful summer's day with the trees in leaf, the flower beds bright with color, and the Swan Boats tracing their tranquil course around the serpentine pond, you would never think of it as a civic battleground. In the early days, some complained that the unnatural combinations of colorful plants were garish beyond the bounds of good taste. Now Boston calls the Public Garden one of its greatest attractions.
21. Granary Burying Ground
Established in 1660, some of America's most notable citizens rest here, including Sam Adams and Paul Revere. Named for the 12,000-bushel grain storage building that was once next door, the historic cemetery has 2,300 markers. However, there is a discrepancy between the number of headstones and the number of people buried on the site, which is said to be 5,000.
22. Destination Salem
Visit Salem, Massachusetts this summer and you can learn about the Salem Witch Trials of 1692, explore sea captains' homes, and experience "Ocean Liners: Glamour, Speed, and Style" at the Peabody Essex Museum. Create your adventure at salem.org.
23. Sail Boston®
Well of course we had to include ourselves! Boston is an official port of the Rendez-Vous 2017 Tall Ships Regatta, and we are welcoming over 50 Tall Ships into the harbor! Learn about personal experiences from cadets and crew members, grab dinner at one of our featured restaurants, and enjoy many activities throughout the city! This is a free, family event taking place from June 17 – 22! Click here to view the full schedule of events.
24. Nathan's Hot Dog Eating Contest
Sail Boston will host a sanctioned hot dog eating contest on Sunday, June 18, 2017, to qualify the champions who will compete in the 2017 Nathan's Famous Fourth of July International Hot Dog Eating Contest. The top male and top female finishers from this qualifier will be invited to compete at the ESPN-televised finals at the original Nathan's Famous in Coney Island on July 4, 2017.
In recent years, an estimated 35,000 fans have made the pilgrimage to the corner of Surf and Stillwell Avenues in Coney Island to watch the Nathan's Famous Fourth of July Hot Dog-Eating Contest in person. In 2016, Joey Chestnut set a Coney Island record on the Fourth of July when he ate 70 Nathan's Famous hot dog and buns to reclaim the Mustard Yellow Belt and earn his ninth title. Miki Sudo of Las Vegas, NV, won the Ladies' Title with 38.5 Hot Dogs and Buns—her third straight victory. nathansfamous.com
25. The Steps at Millennium Tower
The Steps are a new feature to the Downtown Crossing area, having been built in 2016. The Steps are stadium-like seating atop the MBTA's Downtown Crossing station on Franklin Street. A clock tower also hosts interactive informational touch screens. The Downtown Boston Business Improvement District sponsors live musical performances, demonstrations, talks and more every day on the stage in front of The Steps from noon – 2:00 PM and 4:30 – 6:30 PM. This is a great place to sit down, relax and enjoy a bite to eat outdoors.
26. Eat Like a Sailor | Dine Like a Captain
Join The Trustees, Old North Church & Historic Site, and The Fireplace for a culinary adventure you'll not soon forget! Get a taste (literally!) of what life at sea was like during colonial times. Let Chef Jim Solomon of The Fireplace teach you about nautical cuisine… and discover the difference between what captains ate and what sailors ate by sampling two distinct menus. Participants will leave with a greater understanding of the dietary aspect of Boston's history and class distinctions on board a ship. See the menu and get your tickets on eventbrite.com!
27. Spectacle Island Parade of Sail Excursion
The North Drumlin of Spectacle Island provides the highest vantage point in Boston Harbor. So, get ready for some great views – and informative narration – as the magnificent Tall Ships parade by. The day also features lots fun activities, including lawn games, face painting, crafts and much more, plus an inviting array of lush trails just waiting to be wandered on. Breakfast pastries and coffee will be served upon arrival and you'll also enjoy a BBQ lunch buffet with your choice of hamburger, hot dog or veggie option, chips and a drink. Tickets are $75 for adults and $70 for children. Hingham Departure | Boston Departure
28. AMC Loews
Want to see a movie? The AMC Loews Boston Common theater has 19 screens offering an array of movies. This is a great place to get out of the heat, or away from a rainy day, or if you just want to watch the latest blockbuster. Visit amctheatres.com for more info on movies and showtimes.